There are some beautiful museums in the world which attract millions of visitors. The region of Mardan is rich in culture and especially Gandhara remains are matchless. The people of Mardan had the idea of a museum for a long time and they were keen to preserve the heritage. For this reason they formed National Heritage Preservation Societies in the past. Ultimately with the interest of the local Government Officials and the then commissioner of Mardan, Mr R N Sahibzada, the proposal of building a museum in Mardan was made in 1990. The museum was opened in April1991. By then it was probably too late as most of the sculptures and other valuable items were sold illegally by the so called antique dealers (smugglers). The opening of the museum was easy as it was established in the Hall of Mardan Auditorium. Therefore it is a temporary location. One person by the name of Mr A.N.Shinwari is worth mentioning here. He was a government official who was in a position to sanction the use of the building as a museum. But more importantly he took a great interest in Gandhara Culture and wrote articles for the local Journal. Initial help to the museum was provided by Peshawar Museum, Archaeology Department University of Peshawar and Chakdara Museum. The museum is a single big hall with 22 Show cases displaying more than 90 sculptures. It could have been in thousands. The museum in charge Mr Zain ul Wahab has published a lot about Mardan History, Gandhara Culture and The Sculptures in Mardan Museum.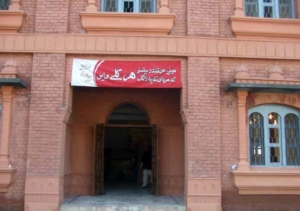 The Museum reflects a collective effort and a big achievement. The struggle does not stop here and the people of Mardan have the following demands and suggestions to the local authorities:Provision of a new state–of–the–art Museum as the current location is temporary and the space is less. There was once a land allocated by the then chief Minister, Mr Aftab Sherpao for a new museum. What happened to that land? There are some new Archaeological Sites revealed and more will be uncovered in the future. The authorities need to put proper measures in place so the new sites do not fall into the hands of the antique smugglers. Many sculptures and items have been taken away to decorate other museums in the country and the rest of the world. The museum itself and the people are asking for the return of these valuables to Mardan Museum, the place of their True Origin.
The visitors enjoy their visit to the museum. The above measures will attract more and more visitors from all over the world.
(Written Year 2004)