Mardan Perras / Badayooni Perras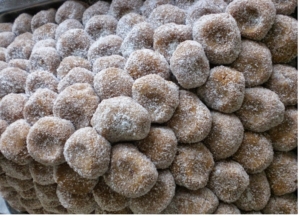 Every city has its own specialty of sweets. Mardan is famous for a type of sweet called, Badayooni Perras. This is a unique type of sweet made of a special recipe. And this recipe is a secret to everyone. Badayoon is a district in Utrapradesh Province of India. The owners of Badayooni sweets are basically Pushtoons returning from Badayoon India at the time partition of India. They started their business of sweet in 1950. They were Ibn-e-Ali, Haji Mehboob Ali Khan and Haji Mehmood Ali Khan.
t has got a unique flavour. No one in the country can make such a tasty sweet. According to the owner a lot of people could make similar sweet but they can not produce the taste of Badayooni Perras.
The price of Badayooni is affordable to every one. The current price is 110 Rupees per 1Kg or £1.00 per Kg. This is one of the souvenirs of Mardan. The people all around the world like the perras and appreciate the taste.
The people of Mardan are happy to have such a good souvenir of their city. In Mardan there are so many shops selling Badayooni Perras but one shop is more popular than all others. They claim to be the best and the taste has not changed since 1950.
So if you have friends from Mardan who are visiting you abroad, do not forget to ask them to bring you Mardan Badayooni Perras. And tell them to go to the shop early as the stock finishes within hours of its production.
Mardan Chapli Kabab
Pushtuns are famous for their hospitality. A variety of food is available to please the guests. Every region has some special food or meal to offer. Kabab is one of these food items which can be found in every small village of Pukhtunkhwa.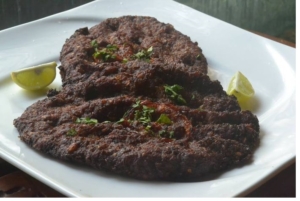 It is made of mince, onions, tomatoes, chillies, maze flour, coriander and a few other spices. Mardan is one of the places where you can get the best Kababs. People from other regions come over here to enjoy eating Kababs. The famous names of Kabab Hotels are Thooth Karhay, Omar Kababi, Shah Gul Kababi,Kanrha Kababi Par Hoti, Abdul Haq Mayar,T akhtbai Kabab,S hahbaz Garha, Lala, Baba and Kaka Kababs, Shankar Kababi and many others.
Kabab is now a days a favourite item of the party dishes. It was originally flat oval shaped but now a different kind of Kabab called seekh Kabab is also available. Kabab is more consumed in winter as it keeps the body warm and is considered good for flue. In some Kababs eggs and Bone marrow is also added. It will cost you 120 rupees per kg (2 dollars) but you will never forget the taste. And especially if you have a day out climbing up Takhtbai or Shahbaz Garha mountains to see the Gandhara History in Mardan.