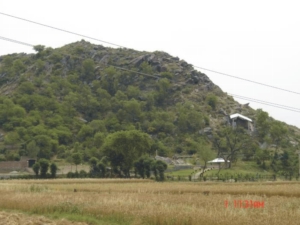 In local language it is called Shahbaz Garha. This is the place to take a break or rest when you are tired. Hence the famous Pushto Matal, Shahbaz Garha Da Staro Zay  dey  (  شهباز ګړه  د ستړو ځا ۍ دې  ) . This in fact is entirely true. It is about 12 km from Mardan city. It has beautiful mountains, green trees, open fields and a small river in the centre of the village.
In old times all these facilities made it attractive for the army and travellers to dig in their tents here, stay for few days and organize their further strategy. The historic Stones of Ashoka and other sites like Mekha Sanda are worth visiting. The most attractive building of the new era is the high school (shown above), this has given a new look to the ancient stones of Ashoka.The local people had put their efforts and resources in building the school. Well done and congratulations to them.
Many sites have been discovered in Mardan and it looks as Mardan was the heart of Gandhara civilization. One of the Buddhist monasteries is of Mekha Sanda, which is located 17 km from Mardan in the North Eastern side in the Hills of Shahbaz Garha. This site was surveyed and excavated by a team of Japanese archaeologists between 1959 and 1965. During courses of excavations a good number Gandhara art sculptures, main stupa, votive stupas, monastery, chapels and Monks' chambers were found. This site became a place for research and a tourist spot.
The name is derived from Pushto language. Mekha means a female buffalo and Sanda means a male buffalo. The arrangement of the stones is in such a way that it looks like buffaloes.
Unfortunately some treasure hunters illegally dug out the site in search of antiques and it has been spoiled. It is the utmost responsibility of the government to provide guards, restore this site and protect it from further destruction. So far there is no sign of it happening.